Trouble on 8 wheels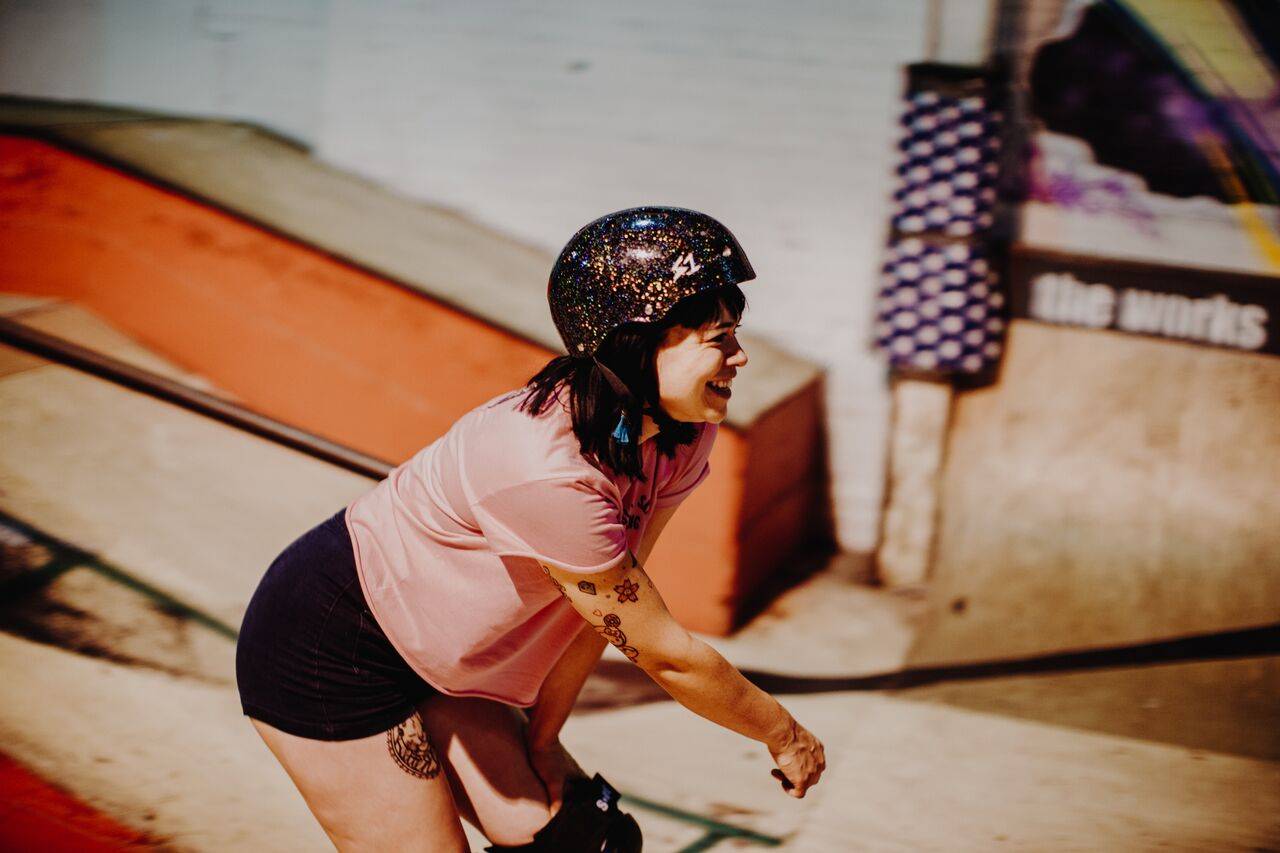 Location
Leeds, Yorkshire, UK
Skate Style

I mostly skate in the local area - indoors, outdoors, skate parks - anywhere! I love exploring on skates too - the thrill of finding a path smooth enough to roll on is exciting!

Community
Mel gives back to the community by encouraging women to support an active lifestyle. She has taught over 800 people to skate in the past 3 years.
Mel learned to roller skate as an adult and has now been skating for nearly 10 years. In that time she has played derby, skated ramps and found a love for roller dance. She loves to learn new combinations and often seeks people out to stretch her skills and help them improve. She also would love to learn more artistic skating too. Mel loves that skating has no age limit. Every time she skates, she improves. Mel was proud the first time she managed a 360 spin, and the first time she did crazy legs. A few years on and my movements are so much smoother! A good shoot the duck is always a fun trick.
Mel co-founded and co-owns
Roller Girl Gang
in the UK and she is really proud of their company. They are a community interest company (CIC) so they hold social issues as part of their core values. Roller Girl Gang up 3 years ago from nothing. The very first class was an outdoor one because they couldn't afford to hire a room! Now Roller Girl Gang has classes at multiple venues and a regular pop-up shop at a wonderful venue, The Corn Exchange in Leeds.
Mel skates for herself and doesn't always have a camera set up, but she has been lucky enough to be snapped by some amazing photographers.
Roll for your soul. Sometimes, it's nice to skate on your own, listening to music. Most of the time, Mel prefers to skate with friends, the majority of whom she met through roller skating. Roller skating should always be fun. Mel plays and creates a lot, particularly at the skatepark. She doesn't like heights and finds it very daunting, so playing keeps everything fun!
Photo above by Katie McMillan
Mel (pictured left) skating with her best friend and business partner Len. Photo by - Carla Mundy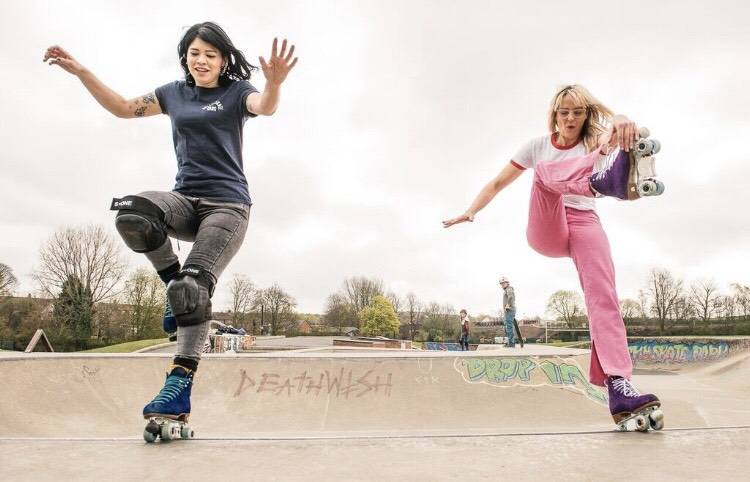 Mel has run free taster sessions for This Girl Can (a Sport England organisation who promote activity for women) and supported lots of women to discover an active lifestyle. Mel and her bestie Len @poseliketwiggy have taught learn to skate, intermediate, outdoor and hill, skate park and dance classes and workshops for the past 3 years. They think around 800+ people have attended in that time! If you include the roller discos, it's probably closer to 1000!
Mel and Len are constantly looking for new places and venues to spread the love of 8 wheels, and have lots of plans in the pipeline!
Mel will also be supporting Skate Love Barcelona 2019 and will be in the playground area this year.
Photo below taken by Jackie Allen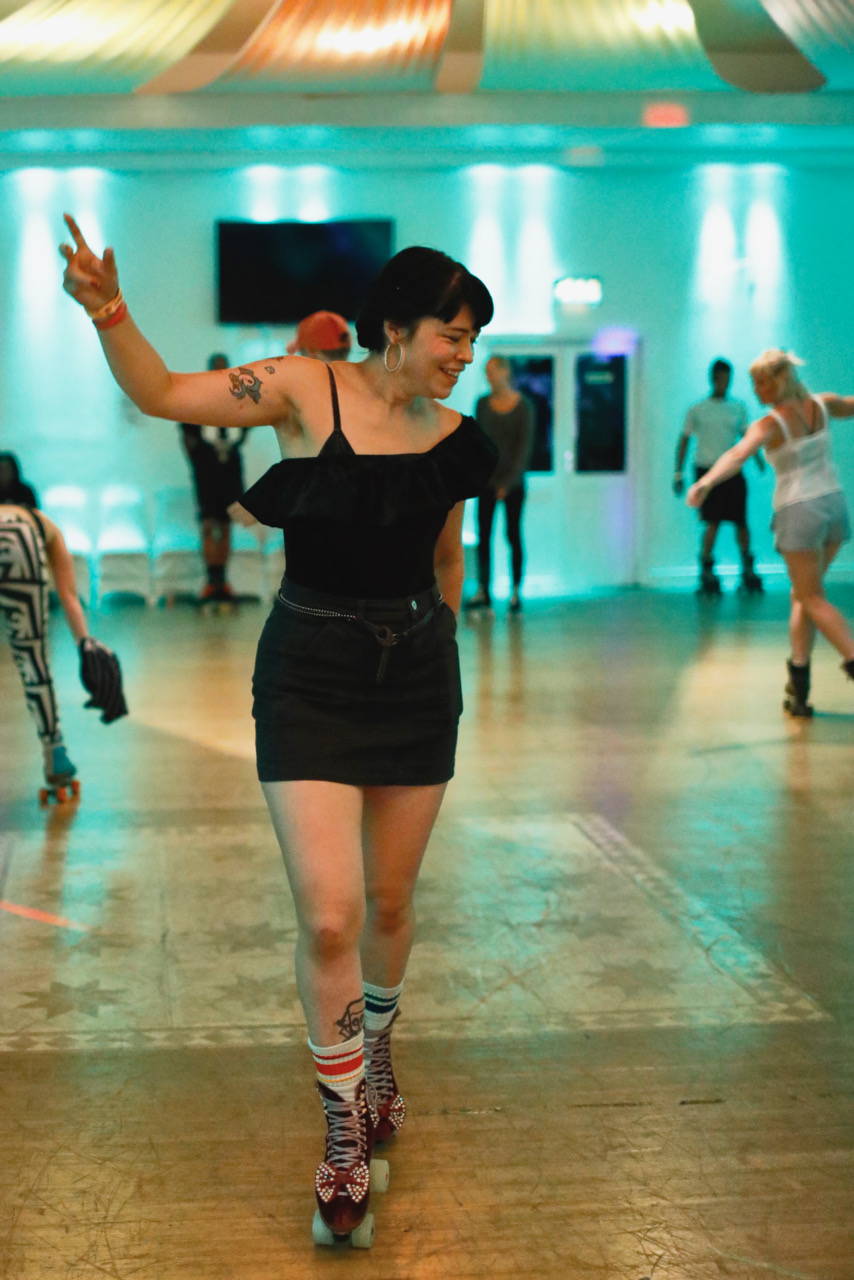 Check out Mel's social media
Photo below by Irene Ferri