Rubio Tradi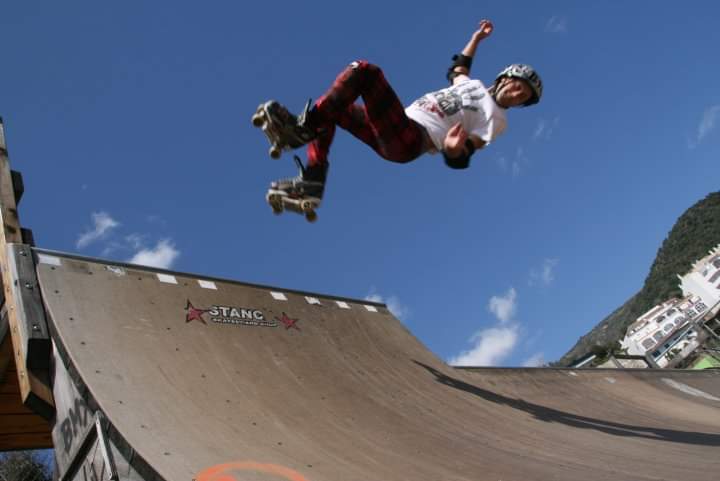 Location
Malaga, South of Spain
Skate Style
Aggressive Skater
Freestyle Skating
Downhill Quad Skating
Community
I have organized downhill, aggressive and quad competitions, teaches skating and organises skate camps.
Born in Malaga, capital, surrounded by sea, mountains and skateparks. Rubio had his first roller skates in 1984, a gift from his maternal grandmother to whom he is grateful, because he has not left his skates ever since. He is part of several teams in different disciplines, Team CTL for downhill 12 years and Quad Prods Team 14 years.
Because of his love for the Quad skating, in 2007 the Quad skate began to evolve, to be able to vary and do tricks of the line skates with the quads. since then it has already four evolutions in improvements in quads and grind blocks.
Rubio has organized downhill, aggressive and quad competitions for 12 years.
He also practices downhill in street league. and is organizing together with his girlfriend and quad skater @fridapipi, the camp clinic skills, which is a six days event, only for quad skaters, touring 7 skateparks throughout the south of Andalusia, Spain. The event has world class instructors and will be held the beginning of July 2019 in Malaga.
Rubio has won quite a few quads skating competitions.
Check out Rubio's social media
Rubio is the creator of one of the most consolidated downhill events, velefique international freeride, created in 2011, managing to bring riders from all over the world. It is celebrated every year at the beginning of September in Almería, Spain. He also organizes the most famous competition in Spain of aggressive quads since 2014 Breaking Trucks. Where a lot of quads of all Spain and part of Europe meets. Every year is celebrated at the beginning of May in Málaga. Apart from these events, he organizes about 4 more events a year, of longboard- streetluge-drif trike-quads.
He teaches of aggressive quad skating, freestyle skating and downhill quad skating. He also gives private lessons to inexperienced people.
He created the brand Quad Prods, in which he build grindblocks and build setups for aggressive, downhill and routes.
@Bertter bearings
@Quad Prods
@Sauce wax
@Downhill Málaga shop
@Cibspain